Today's a big day in the world of romance writing, because it's the day that the nominees for the two biggest awards in romance publishing are announced!
A little background on these awards: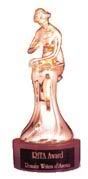 The RITA is the romance-publishing industry's highest award of distinction, and is presented annually to the best published romance novels of the year. The award itself is a golden statuette named after RWA's first president, Rita Clay Estrada, and has become the symbol for the best in published romance fiction.
Up to 1,200 romance novels from 12 different categories are entered each year in the RITA competition. After the first round of judging by fellow published romance authors, the competition narrows to approximately 100 finalists. Once the RITA finalists have been revealed, they must then wait until RWA's National Conference each July to find out which books will win the coveted RITA Award. The names of the winning books are kept secret until the final night of the Conference. The RITA and Golden Heart Award Ceremony is a formal event similar to the Oscars where the winners are finally revealed and honored.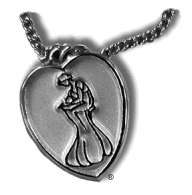 The Golden Heart is a contest for unpublished writers. It brings manuscripts written by unpublished RWA members to the attention of the publishing community and celebrates excellent, unpublished writing. (I have no idea why the only picture I could find is silver, when the heart itself is gold! LOL)
Each year, over 1,000 manuscripts are entered in the Golden Heart contest by writers who have yet to sell their first romance novel. Similar to the RITA Award contest, the Golden Heart contest has 10 different categories with only one winning manuscript per category. In the preliminary round, the 1,000 manuscripts are read and judged by members of RWA, who narrow the field down to approximately 100 finalists. The final round of the contest is judged by acquiring editors from romance publishing houses. Many Golden Heart finalists sell their manuscripts to publishers as a result of the exposure from the contest.
The winners of the Golden Heart contest are revealed alongside the RITA Awards at RWA's Annual Conference every July. At the formal Award Ceremony on the final night of the Conference, the winners of the Golden Heart contest receive a gold, heart-shaped necklace in recognition of their achievement.
I was lucky enough to win a RITA last year, but I certainly don't expect lightning to strike twice! Instead, I have my fingers crossed for many of my writing friends, that they'll get that super-exciting phone call today telling them that they've been nominated!