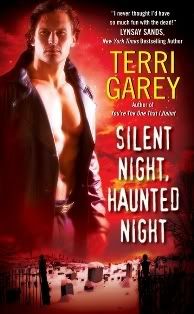 I'm starting to get excited by the upcoming release of book #4 in the Nicki Styx series, SILENT NIGHT, HAUNTED NIGHT. It will be in bookstores everywhere Oct. 27th, just in time for Halloween - what more could a ghoul want?

Waiting for those first reviews is nervewracking, let me tell you, but I was thrilled to find out yesterday that Romantic Times Magazine has given it 4 Stars, and Library Review Journal says, "This sultry, upbeat urban fantasy puts a new twist on visitations by Christmas ghosts, and is just the thing for readers who want their holiday fare with a darker edge."

Everyone knows that the holidays can be Hell, right? :-p Read the opening paragraphs to SILENT NIGHT, HAUNTED NIGHT, as Nicki Styx sets the stage for her latest adventure:

Silent Night, Haunted Night (Excerpt)

Ebenezer Scrooge isn't the only person who's ever had to deal with ghosts at Christmas.

You remember the tale; crabby old man, three spirits coming to visit on Christmas Eve—the ghosts of Christmas Past, Present and Future—all there to show him the error of his ways and to give him a second chance at life before it was too late.

Unlike Scrooge, my second chance at life came much earlier. My name is Nicki Styx, and I'm only twenty-nine. A faulty heart valve nearly did me in last year. In fact, it did do me in; I've been to the other side and back again—and I mean that quite literally. Bright light, tunnel, and lifetime instructions to "do unto others as I'd have done unto me" before waking up in the hospital, sore and forever changed. I was very lucky, although getting kicked out of the afterlife definitely came with some strings attached; the restless dead, the ones who weren't so lucky, keep popping up with unfinished business, expecting me to finish it for them.

Which I do, if I can.

Even if it gets me in trouble, which it frequently does.

This year, however, the holidays seem to have brought nothing but trouble: three unpleasant spirits out to teach me a lesson for interfering in the "natural order of things". Three ghouls, three harpies, three sisters in crime… better known as the Three Fates.

The worst of the three is a succubus, a beautiful woman who can seduce any man alive by invading his dreams.

I know 'tis the season to be jolly, but this year, Santa's "ho,ho,ho" is all too real, and worse—she's out to steal my boyfriend.
If you read this far, then you deserve a treat (or two!). Since I'm already in a Halloween kind of mood, leave me a comment here, or on
MySpace
or
Facebook
for a chance to win one of these cool "coffin tins" of mints, and a special Limited Edition bookmark!