Times are tough these days, aren't they? The economy's down, unemployment's up, and most of us have had to do some belt-tightening of one type or the other - fewer dinners out, fewer vacations, fewer trips to the mall or the movies. Many consumers have given up everything that might even be considered a luxury, except for the those they consider the most important, like books. Yes, book sales are up, and consistently rising, according to Sue Grimshaw, corporate romance buyer for Borders - romance more so than other genres! Yay!

I spent a fun and fascinating day this past Saturday, listening to Sue talk books during a chapter meeting at Tampa Area Romance Authors. She led a lively question and answer session about what's selling and why, the importance of covers, trends, publisher support, promotional efforts, reviews, cover quotes, and reader shopping habits (all before lunch!). It seems that readers can't get enough of paranormals, romantic suspense, "soft" romance centering on small towns and women's issues, and historicals are once again on the rise. Great news for us writers, and hopefully great news for our readers.


All this industry talk was followed by a field trip to our local Borders, where Sue walked us through the how's and why's of bookstore placement and displays. Here she is on the far right, posing with Mart Sadler (the local Borders General Manager), TARA president Vicki Lane, author Kathy Carmichael, and Borders employee extraordinaire, Gypsie (in black). Why is Gypsie so extraordinary? Because she and Mart not only hosted our entire chapter (approx. 40 excited, chattering, giggling women) in their store at one time, but she put together a group signing for ten different TARA authors afterward (here we are in the photo below).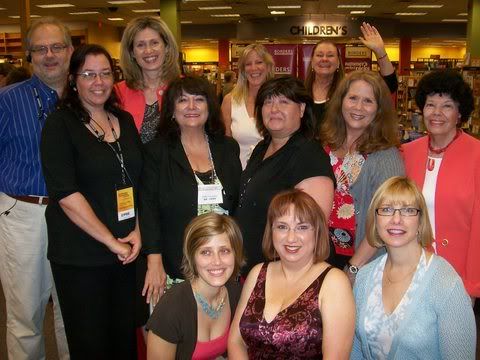 She promoted the heck out of us beforehand, too, and we all got chocolate chip cookies! Woohoo! :-) A great time was had by all - we came, we signed, we conquered - and we all came away with a much better idea of what goes on behind the scenes of a major bookseller like Borders.

And did I mention the cookies? :-) Give a writer a chocolate chip cookie and you've got a friend for life!

Thanks so much to Sue, Mart and Gypsie!