Okay, I admit it - I've never tried to claim that I was "normal", particularly when it comes to Halloween! Technically, summer is over and fall has arrived (I say "technically" because I live in Florida, so the changing seasons are pretty much green, green, green, and slightly chilly).
Even though it's only September, I'm already in a Halloween kind of mood! (I absolutely adore Halloween - it brings out the kid in me. The weird, slightly odd, somewhat "off" kid... ;-) Anyway, this year it's going to be
two
months of weirdness (September and October), kicked off with my :
Come To The Dark Side,
We Have Cookies Contest!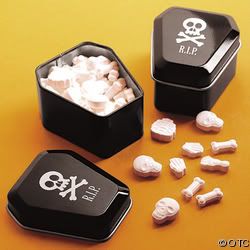 C'mon... who doesn't like cookies? :-) (
chocolate
cookies with chocolate pumpkins and chocolate caramel corn and... did I mention the chocolate? lol) Five runner-ups will receive one of these cool little coffin-shaped tins filled with mints, and assortment of goodies from some of my favorite authors! (Wouldn't want to frighten away the trick-or-treaters with chocolate pumpkin cookie breath, now would you? :-)
Drawing will be held October 15, 2009 - just in time to get your goodies before Halloween!
All you have to do is answer the question,
"What kind of car does Sammy drive?"
.
You'll find the answer by reading an
EXCERPT
from the next release in the Nicki Styx series,
You're the One That I Haunt
(March 2009).
Send me an
EMAIL
with the right answer as to what kind of wheels a
REAL
sexy devil drives, and good luck!
(p.s. - just so you know, entering adds your name to my mailing list, but I promise, there will be no spam and no nagging. :-) Just occasional notice of upcoming releases, that's all.
So what are you waiting for, ghoulfriend? You can't win if you don't enter! lol